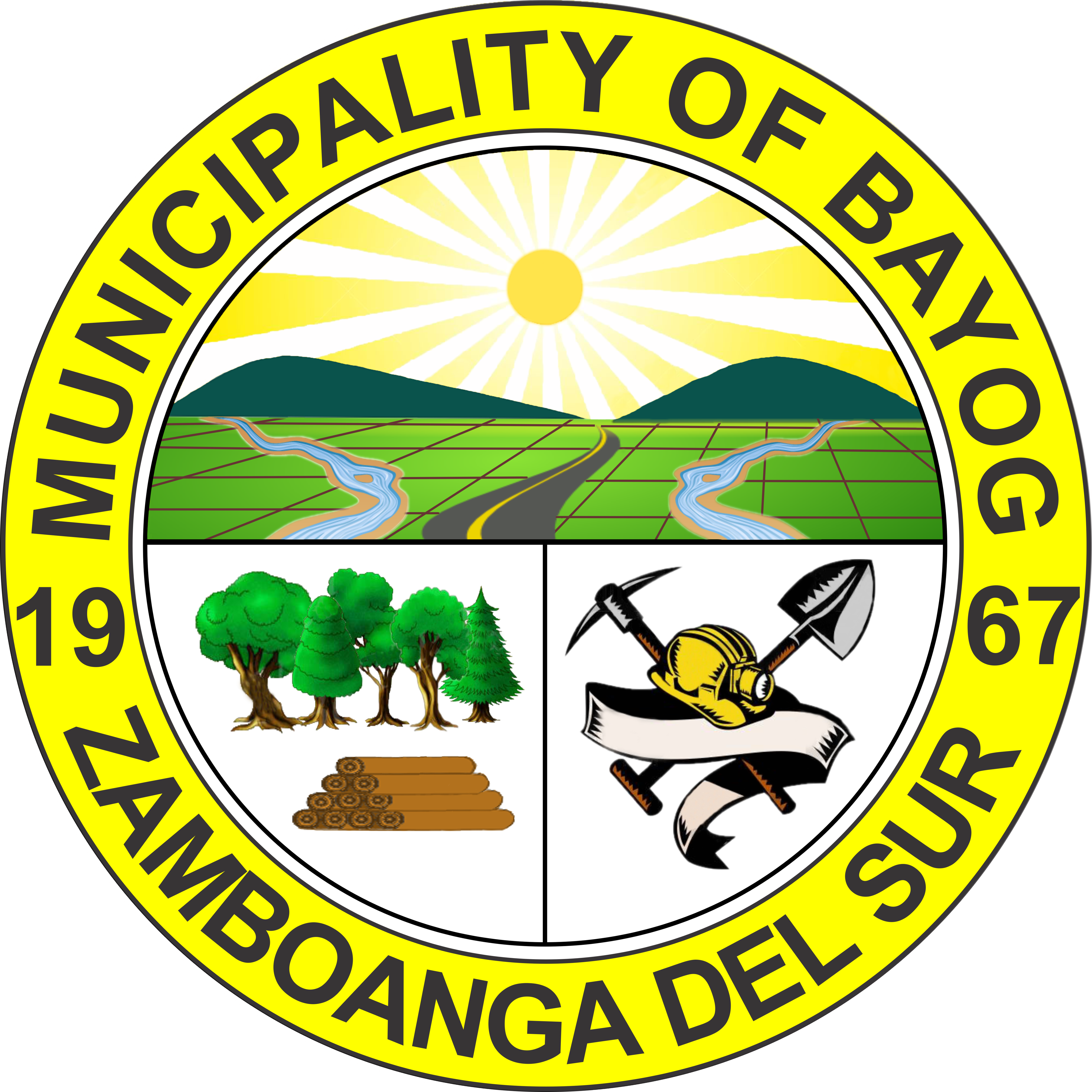 Per Municipal Ordinance No. 13-200-16 otherwise known as an Ordinance defining the Official Seal of the Municipality of Bayog, Zamboanga del Sur, our official seal bears significant designs reflecting our rivers, forest, mining resources, agricultural and timber lands.
The Municipality of Bayog is traversed by two big bodies of rivers, in the eastern part by Sibuguey River and on the western part by Dipili River. These two rivers are portrayed in the seal. Our town is also known as an agricultural community. In fact, farming is the chief source of livelihood of the majority of our people. In the past, Bayog mostly forested, was abundant of forest products like rattan poles and timbers. It was also a haven of wildlife. As far as mining resources are concerned, Bayog thrives in iron ore, copper, manganese, chromite, gold and silver. Mining also has become one of the locals means of earning a living.
PURPOSE AND SIGNIFICANCE
Yellow Ring
          The yellow ring that can be depicted in the seal represents the color of sunshine. It symbolizes joy, happiness, intellect, and energy which reflect the lifestyle of the inhabitants of the Municipality of Bayog - the Bayoganons.
Forest and Agriculture
          The green forest and agriculture represents the color of nature. It symbolizes growth, harmony, freshness and fertility. Agriculture and forest areas are colored green as they depict our people's aspirations for biodiversity conservation and watershed protection to sustain food production.
River
          The blue rivers strongly associate tranquility and calmness. The Sibuguey River and Dipili River are the major water resources in town that support livelihood and leisure.